Intelligent guidance – Dialog, Coaching tips and Alerts
Intelligent guidance – Dialog, Coaching tips and Alerts /

Jump to navigation
Jump to search
| | |
| --- | --- |
| Curator Assigned | |
| Request to Publish | |
| Description | |
| Version as of | |
| Application | |
| Capability/Industry Area | |
↓↓↓↓↓↓↓↓↓↓↓↓↓↓↓↓↓↓↓↓↓↓↓↓↓↓↓↓↓↓↓↓↓↓↓↓↓↓↓↓↓↓↓↓↓↓↓↓↓↓↓↓↓↓↓↓↓↓↓↓↓↓↓↓↓↓↓↓↓↓↓↓ Please Read Below ↓↓↓↓↓↓↓↓↓↓↓↓↓↓↓↓↓↓↓↓↓↓↓↓↓↓↓↓↓↓↓↓↓↓↓↓↓↓↓↓↓↓↓↓↓↓↓↓↓↓↓↓↓↓↓↓↓↓↓↓↓↓↓↓↓↓↓↓↓↓↓↓↓↓↓↓↓↓↓
Enter your content below. Use the basic wiki template that is provided to organize your content. After making your edits, add a summary comment that briefly describes your work, and then click "SAVE". To edit your content later, select the page from your "Watchlist" summary. If you can not find your article, search the design pattern title.
When your content is ready for publishing, next to the "Request to Publish" field above, type "Yes". A Curator then reviews and publishes the content, which might take up to 48 hours.
↓↓↓↓↓↓↓↓↓↓↓↓↓↓↓↓↓↓↓↓↓↓↓↓↓↓↓↓↓↓↓↓↓↓↓↓↓↓↓↓↓↓↓↓↓↓↓↓↓↓↓↓↓↓↓↓↓↓↓↓↓↓↓ The above text will be removed prior to being published ↓↓↓↓↓↓↓↓↓↓↓↓↓↓↓↓↓↓↓↓↓↓↓↓↓↓↓↓↓↓↓↓↓↓↓↓↓↓↓↓↓↓↓↓↓↓↓↓↓↓↓↓↓↓↓↓
Service consistency is key, and can often be an expensive training item for Customer Service leaders, particularly for new or seasonal staff. Dialogs help CSRs by guiding what they say or text during customer conversations.
Detailed instructions for configuring dialogs can be found in the Customer Service implementation guide.
Best practices for configuring dialogs[edit]
Making it personal[edit]
Customer interactions can be made more real by personalizing the dialog between CSRs and customers. Personalization matters, customers are likely to respond more positively when they are addressed by their first or full names. So, it a good practice to personalize the dialog between CSR and customer whenever its applicable (certainly at the beginning of interactions and at wrap up) and this can be done through different parameters like name of the customer, name of the agent, interaction channel etc. In addition to interaction specific data points, anything that you use on the composite can be used in dialogs.
Keeping the dialog concise[edit]
It is a good practice to keep the dialogs concise and to the point so that they are easy to read and comprehend. Certain scenarios (legal disclaimers etc) may require lengthy dialogs. For example, when CSR is required to collect a lot of information from the customer as part of the process. Such conversations should be broken down to shorter dialogs. Why? Concise dialogs are more suitable for sharing on messaging or text channels where limited number of words per dialog are recommended - instructions or requests to customers that scroll off of a mobile screen are likely to be of marginal utility.This is where dialog design and case design intersect. The more granular the view designs in your case, the more specific the dialogs can be.
Using dialog on text channels[edit]
One thing that is often forgotten (possibly because we don't produce a user manual for CSRs) is the second of two options for sharing dialog on a text channel. By default, if the compose window is empty, a dialog will be entered when the interaction starts or a service case is initiated or progressed. which the CSR can edit. As soon as the CSR starts typing something, the dialog is removed, which is as expected. Sometimes the CSR needs to finish a train of thought before the dialog is applicable. By clicking on the headset icon to the left of the dialog, the text can be reshared in the compose window.
Coaching tips[edit]
Certain customer interactions could be sensitive in nature and require customer service representatives to handle these instances carefully and tactfully. Coaching tips are meant for providing guidance to CSRs for such scenarios and encourage them to follow best practices. In contrast to dialog, the focus is less on what is communicated but how it could be communicated.
Detailed instructions for configuring Coaching tips can be found in Customer service implementation guide.
Best practices for configuring Coaching tips[edit]
Keeping the content current and targeted[edit]
As coaching tips provide guidance especially for handing sensitive situations with customers, it is important to modify the coaching tip description to reflect business needs. Areas of risk or areas where sensitivity is needed, are great opportunities for Coaching tips. For example, if the customer interaction is on any compliance related issue, it is important that CSRs take latest regulatory standards or guidelines into consideration while they proceed to resolve customer issue.
Keeping the length of content appropriate[edit]
It is important to keep the length of coaching tip content just appropriate for CSRs to read, understand and act upon. For example, CSRs may be become less sensitive to a lengthy coaching tip if they find it too long and overwhelming. Remember they are more likely under pressure to resolve as many customer issues/cases and move from one case to another quickly.
Making them available to those that need them[edit]
Coaching tips are great tools for CSRs who are new to a team as they need more guidance than tenured reps. They are also useful when the entire team starts supporting new product lines or solution areas. So depending up on the situation, it a good practice to make coaching tips available in a targeted fashion.
Providing more context through Knowledge articles[edit]
Sometimes it is important to provide complete context to a given coaching tip so that CSRs are better positioned to understand and execute the coaching tip instructions. For example, CSRs with knowledge of resolution flow but without a lot of experience on how that flow may be specific to certain states or regions, can check on this more detailed content in an internal Knowledge article..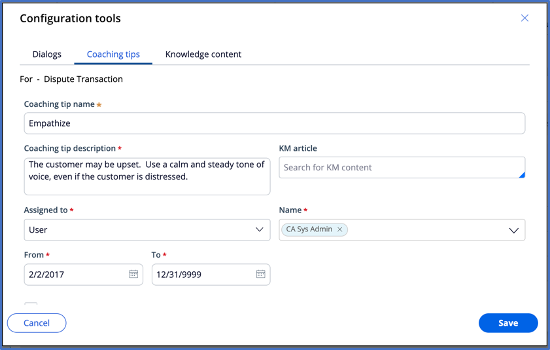 Customer service representatives should always be in a position to handle changing business circumstances to ensure service levels are consistent and meet customer expectations. For example, details on a service outage and its impact to a specific geography, Alerts about such disruptions is a very useful capability that Pega customer service provides.
Detailed instructions for configuring Alerts can be found in Customer service implementation guide.
Best practices for configuring Alerts[edit]
Posting important information[edit]
By default, Messages and alerts take one of the prime slots on "My Work" area of CSRs. So, this real estate can be better utilised to post important notices or information to CSRs. For example, a message on an upcoming training session on changing legal requirements would be very useful for readers.
Marking only required workgroups[edit]
As CSRs are busy solving customer issues, their priority on which issue to resolve can change with nature of issues. It is also important that not every CSR is distracted with newly created alert messages. So workgroups to which the message is sent should be carefully selected.