Creating new email channels in customer service
This is the approved revision of this page, as well as being the most recent.
Jump to navigation
Jump to search
Creating new email channels in customer service
| | |
| --- | --- |
| Description | The email channel template that is included with Pega Customer Service saves time when you create new email channels. |
| Version as of | 8.4 |
| Application | Pega Customer Service |
| Capability/Industry Area | Interaction Management |
Summary
Customer service representative (CSR) administrators do not need to start an email channel from scratch. Pega Customer Service includes an out-of-the-box (OOTB) email template that captures best practices for configuring an email channel. Setting up a new email channel is faster because every email bot will inherit the same values as the sample out-of-the-box channel, including for national language processing (NLP). The CSR administrator only has to change the values that differ for your business, which saves valuable time. The OOTB email channel not only serves as a sample configuration for email interactions within Pega Customer Service but also doubles as a template, which the new email channels will inherit. CSR administrators can push their application-specific configurations as part of this email template.
From Pega Customer Service, click Channels and interfaces to see the email channel, as shown in the following figure, Email sample configuration for Pega Customer Service, which is included out of the box.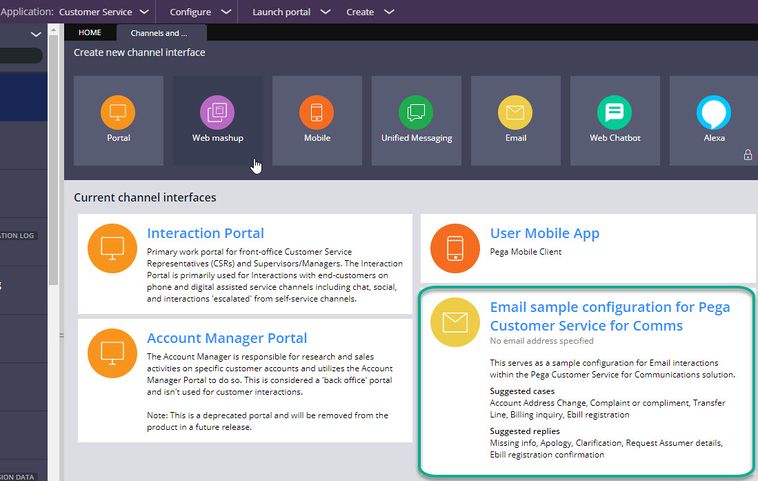 Configuring topics and entity mapping
Topics and entities are NLP constructs. When it comes to customer service, the following one-to-one mapping describes topics and entities.
Case type/Suggested replies = Topics
Case properties = Entities
In the sample that is provided, you can find the best practice as part of the Address change case. The topic to be detected is address change, which is detected by various keywords. Also, as you can see in the following figure, by clicking the Gear icon for the address change case, you can view the case properties that are mapped to the NLP detected entities.
When to enable straight-through processing?
As you can see, not all case types are enabled for straight-through processing. In other words, most cases require human intervention before the case is processed. However, an automation goal with no human-in-the-middle will involve automatic case creation, entity mapping, and eventual case resolution. This overall process is called straight-through processing.
OOTB, the Ebill registration case is provided as a candidate case for straight-through processing. In this case, the end customer requests to sign up for electronic bills over physical mails. Here as you can see, after the customer email is received, the Ebill registration case is created, the account number is mapped to the case property, and back-end activities are triggered to sign up the customer for electronic bills, with no human intervention involved. This is true automation and the average handle time (AHT) metric improves significantly for the contact center.